About ViewOnPoker.com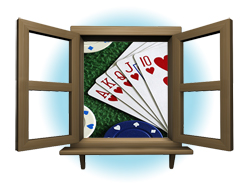 ViewOnPoker.com is your one-stop Web resource for online and live poker, with detailed reviews of online poker rooms, tournaments, freerolls, special features and bonuses. We offer helpful poker tips and strategies, poker rules and knowledge, profiles of famous poker players and much more.
ViewOnPoker.com showcases the most intriguing, entertaining and memorable moments of the poker world caught on video and photos.
ViewOnPoker.com is your guide to online poker shopping, bringing you the most recommended poker books, poker DVDs, poker appeareal, poker jewelry and more. If you operate an online poker store, poker room or any other poker-related website, we invite you to place your information on ViewOnPoker.com.
We are always open to your feedback and suggestions. Feel free to contact us at any time.
We wish you a pleasant stay at our site.