Annie Duke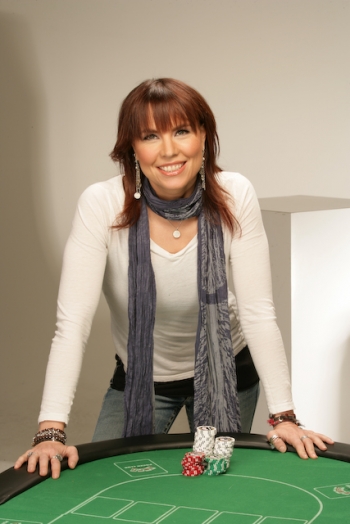 Video

Image gallery

See also
Annie Duke was born on September 13, 1965 in Concord, New Hampshire. She holds one World Series of Poker (WSOP) bracelet which she won in 2004. She is known by her nicknames "Annie Legend", "The Duke", "The Duchess of Poker". Her hometown is Los Angeles, California.
Duke's brother is Howard Lederer, a professional poker player himself. She has also a sister (Katy Lederer) who is a poet and an author, who wrote a book about the family, titled Poker Face: A Girlhood Among Gamblers. Her father (Richard Lederer) was a writer and linguist who taught at St. Paul's School. Duke has also a family of her own now and she has 4 children: Maud born in 1995, Leo born in 1998, Lucy born in 2000, and Nell born in 2002.
Duke attended Columbia University where she studied English and psychology. Her husband is Ben Duke, who was a good friend from the University. At first, Duke planned to continue and study, but eventually decided to quit school in 1992. She quit after five years of graduate school and only one month before she had to defend her Ph. D. work. After she quit school, it was her brother (Howard Lederer) who supported her and she eventually became a professional poker player, too. It wasn't always poker for her, as in 2002 she went to Portland, Oregon and worked for ieLogic, which was producing software for online real time casino gaming.
In 2004, she divorced from her husband and even won a bet she made with professional poker player, Steve Zolotow. He bet against her that her marriage will not last five years but when it did, she won the bet and took $500 from him. In 2005, she moved with her children to the Hollywood Hills in Los Angeles, California.
She started playing poker after quitting school and with the help of her brother she was playing in card rooms in Billings. It was in 1994 that she moved with her then husband Ben to Las Vegas, Nevada, in order to play poker full time. 10 years later, in 2004, Duke received great publicity as she tutored actor Ben Affleck, who eventually won the 2004 California State Poker Championship. In that same year, she went and eliminated her brother from four different WSOP events. It was a wonderful year for Duke, as she also won her first WSOP gold bracelet.
Duke holds a record for being the woman who made it in the money most times in WSOP events. In 2004, she took home $2,000,000 for winning the inaugural WSOP Tournament of Champions, which was then the record for an amount of money won by a female player in a single event. Later a new record was set in 2007 by Annette Obrestad after she won the Main Event of the 2007 WSOP Europe. Annie Duke is also a prominent player on Ultimate Bet, where she competes against other registered players
Duke refuses these days to play in tournaments for women only. She says that poker is a game where men and women can compete equally against each other and that's why there is no need for tournaments held especially for women. In 2006 she showed that her claim was correct as she came in 88th out of 8,773 players in the 2006 WSOP Main Event to take home $51,129. When she was eliminated, she was one of only two women left in the tournament. As of 2008, she has won over $3,600,000 in live tournaments only.
Duke has made several TV appearances. In 2006, She appeared on GSN's special "Annie Duke Takes on the World", where she played against amateur players. She also made an appearance on the Ultimate Blackjack Tour where she played Elimination Blackjack. Another program she was on that was not about poker was NBC's "1 vs. 100", where she answered all the questions correctly and thus was the only celebrity that was not eliminated. She then returned to the show several times and again answered the questions correctly, always finishing in the top. She also appeared on NBC's show Poker After Dark, but never won any show. She also teaches poker alongside Phil Hellmuth on Best Damn Poker Show, and she is intended to appear in the new season of Celebrity Apprentice.
Besides playing and teaching poker, Duke had some time to publish a book titled Annie Duke: How I Raised, Folded, Bluffed, Flirted, Cursed, and Won Millions at the World Series of Poker, which is an autobiography.
WSOP Winnings
2004 - $2,000 Omaha Hi-Lo Split - $137,860
If you love tennis and big events then this is the place where you want to be. Buy Wimbledon tickets 2011 and don't miss the thrill and excitement of Grand Slam tennis where the best players try to win the most prestigious title in front of thousands of fans and the Royal Family as well.