Barry Greenstein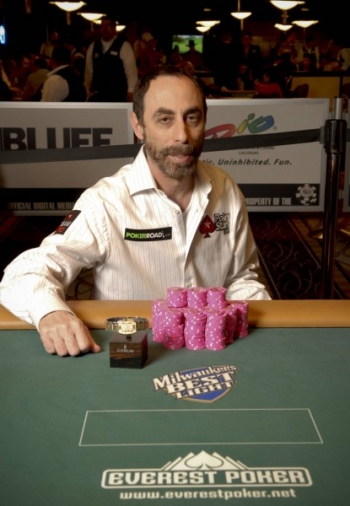 Video

Image gallery

See also
Barry Greenstein was born on December 30, 1954 in Chicago, Illinois. He holds 3 World Series of Poker (WSOP) bracelets and 2 World Poker Tour (WPT) bracelets. He is also known by his nicknames "The Robin Hood of Poker" and "The Bear", and his hometown is Rancho Palos Verdes, California.
Greenstein graduated from Bogan High School and went to learn at the University of Illinois where he got his bachelor's degree in computer science. He also studied for a PhD in mathematics, but never defended his dissertation, even though he completed it.
He was introduced to poker by his father when he was still a child, and played it for a while. Later on, he was working for Symantec, but decided to retire in 1991 at the age of 36 to go back and play poker full time.
Greenstein has two children and four stepchildren. His stepson, Joe Sebok is also a professional poker player.
In 2005, Greenstein published his famous book titled Ace on the River. Tuan Le, a professional poker player who has won 3 WPT events, said he has learned from the book and he contributes a lot of his success to this book. Greenstein is also known for giving a free copy of his book to anyone who eliminates him from a tournament. He also takes time to sign the book and include it with some of his notes.
An interesting "deal" was made between Greenstein and his former girl-friend Mimi Tran, as he taught her to play poker and in exchange, she taught him to speak Vietnamese.
Greenstein is also a member of PokerStars team of professional players and he often could be found playing online under the alias "barryg1".
He appeared in Poker Superstars Invitational Tournament, all five seasons of GSN's High Stakes Poker and NBC's Poker After Dark.
Greenstein even donated all of his tournament winnings to charities at one point, and that is how he got his nickname "The Robin Hood of Poker".
As of 2008, He has won over $6,400,000 in live tournaments only.
WSOP Winnings
2004 - $5,000 No Limit Deuce to Seven Draw - $296,200
2005 - $1,500 Pot Limit Omaha - $128,505
2008 - $1,500 Razz - $157,619
WPT Winnings
2004 – World Poker Open - $1,278,370
2006 – WPT Invitational - $125,000