Bertrand Grospellier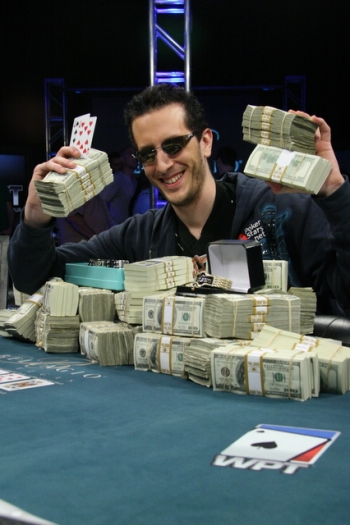 Video

Image gallery

See also
Bertrand Grospellier was born on February 8, 1981 in Melun, France. He is one of the most talented French poker players and around the tables he is know by his nickname "ElkY". He has won one World Poker Tour (WPT) title and one European Poker Tour (EPT) title but has never won a World Series of Poker (WSOP) bracelet, although finishing 8 times in the money.
Before becoming a professional poker player, Grospellier had an interesting and unusual job as he was a professional gamer. As a professional gamer, Grospellier was ranked among the top StarCraft players in the world. In 2001, he finished second in the World Cyber Games event and decided to continue his gaming career in South Korea, where he eventually moved.
He decided to dye his hair in order to mix better in the gaming industry and it seems it did not hurt as in 2002, he finished second in an event called Ongamenet WarCraft Retail that was also televised. Later on, Grospellier decided to retire from gaming and move to poker, becoming a full time poker player.
In 2007, Grospellier finished the Copenhagen EPT event in second place but that did not stop him as only a year later in 2008, he came back to win the EPT PokerStars Caribbean Poker Adventure, taking home an astonishing prize of $2,000,000.
The year continued to be dreamy for Grospellier as he also won the WPT Festa al Lago tournament, winning $1.4 Million.
It didn't end there as after his fantastic poker year, he was awarded with the WPT Player of the Year title. Winning both the EPT and WPT made Grospellier only the third person to win both titles along-side Gavin Griffin and Roland De Wolfe.
Grospellier suffered an unpleasant incident at the World Championship of Online Poker in 2008, as he was disqualified from the tournament after agreeing to go all-in with another player blind flip. This was a violation of the tournament rules which state that "Poker is an individual (not a team) game. Any action or chat intended to help another player is unethical and is prohibited."
He did not get to have his winnings as it was forfeited and other places moved up to replace his spot. It seems he was not alone as it turned out that Annette_15 who is professional poker player Annette Obrestad and charder30 had also violated this rule earlier.
In 2009, he was not disqualified and eventually won the World Championship of Online Poker (WCOOP) in event 38. This win also awarded him with a fine bracelet. It took him only 3 days to win another bracelet in event 43, overcoming 9,220 other players. He won almost $500,000 from both events.
Grospellier is a member of team PokerStars and can be found playing there often. He was the first player to achieve PokerStars "Supernova" and "Supernova Elite" statuses. He earned 100,000 player points in two weeks only and 1,000,000 player points in four and a half months. Very impressive indeed!
As of 2009, he won more than $5,700,000 in live tournaments only.
He no longer lives in France or South Korea as these days he resides in London, England.
WPT Winnings
2008 - Festa al Lago - $1,411,015
EPT Winnings
2008 - EPT PokerStars Caribbean Poker Adventure - $2,000,000