Dario Minieri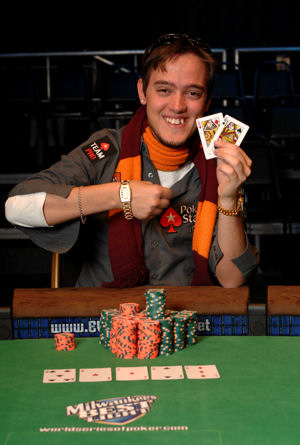 Video

Image gallery
Dario Minieri was born in 1985 and he's an Italian professional poker player coming from Rome, Italy. He is also known by his nickname "Supernova" and his hometown is in Rome, Italy.
He is a young and successful poker player as he won a World Series of Poker (WSOP) bracelet in 2008 when he was only 23 years old and also qualified to 3 European Poker Tour (EPT) final tables and 1 World Poker Tour (WPT) final table. He is a member of team PokerStars and is the first player to earn enough Frequent Player Points (FPP) to buy a car with them.
Minieri is a very aggressive and successful poker player and his nickname in PokerStars is "Dariominieri" if you wish to look him up. He specializes in High-Stakes Heads-up poker games and has the highest rank (Supernova Elite) in PokerStars site. As mentioned before, he was the first player to earn enough Frequent Player Points to buy a car, and if you're wondering what car it was and how many points were needed for this acquisition, it was the 2007 Porsche Cayman S and it cost him over 3 million points.
On the 27th of January, Minieri played and won the PokerStars winner-takes-all Freezout tournament and grabbed $100,000. The interesting part in this tournament was when only Minieri and Issac Baron were left to play the heads-up for the entire prize. They requested to stop to game in order to look for a deal suitable for both players and deal the prize according to the chip count of both players. At that time, Barron was down to a 3-1 chip deficit but he demanded from Minieri a larger portion than Minieri agreed to and eventually the deal was refused by Minieri, which was a great thing for him as he continued his great poker play and won the heads-up play and the tournament, earning $100,000.
Minieri had some good years playing the World Series of Poker (WSOP) tournaments as he cashed out 4 times in WSOP tournaments. In the 2007 WSOP, he was the chip leader during day 3 but eventually finished the tournament 96th out of 6,358 players. This did not discourage him as the following year in the 2008 WSOP, he won the tournament earning himself $528,418. This was the $2,500 No-Limit Hold'em Six-handed tournament and this time he went all the way out of 1,012 players to win his first WSOP bracelet and establish himself as a great poker player and a poker pro. Minieri's held pocket queens in his final hand against his opponent's K10. After the board showed A,A,5,2,3 Minieri was declared the tournament's champion.
He also finished 5 times in the money in and made it 3 times to the final table in the European Poker Tour (EPT) events. He finished the €5,000 No Limit Hold'em tournament that was held in Baden, Austria in 3rd place to win €125,780. Another EPT tournament that was held in Sanremo, Italy in 3rd place again and won €287,600 but was eliminated in a harsh way. He was holding pocket queens against his opponent then – Jason Mercier who was holding A4 of diamond. The flop on the board showed 7,2,8 with two diamonds. Lawson who was the third player in the hand checked, Minieri bet 400,000 and when it was Mercier's turn to play, he check-raised all-in on a flush draw. Minieri called him and had the best hand at that moment, the turn was 4 of hears and the river was a 3 of diamond, giving Mercier his flush. He eventually won the entire tournament and the EPT title. Minieri finished in 3rd place again at the 2008 EPT Warsaw tournament and won €123,162.
As of 2009, he has won over $1,624,427 in live tournaments only and is ranked number 3 among Italian poker players as for total earnings in live tournaments.
WSOP Winnings
2008 - $2,500 No-Limit Hold'em Six-handed - $528,418