David Sklansky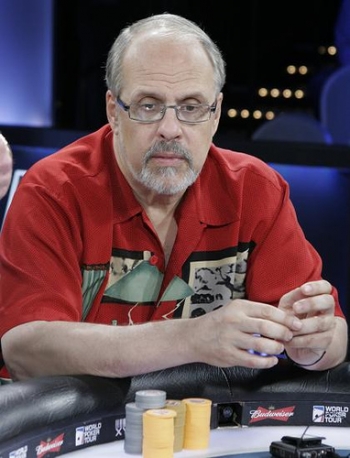 Video

Image gallery
David Sklansky was born in the year 1947 in Teaneck, New Jersey. His nickname is "The Mathematician", he lives in Henderson, Nevada and he holds three World Series of Poker (WSOP) bracelets.
Sklansky was raised in Teaneck, New Jersey, where he also graduated from Teaneck High School in the year 1966. Later on, he studied at the University of Pennsylvania, but quit before he could graduate. He decided to return to his hometown, where he passed many Society of Actuaries exams before he reached the age of 20 and then worked for an actuarial firm.
Sklansky is considered an expert when it comes to gambling. He wrote many books on blackjack, poker and gambling. He won the WSOP three times, twice in the year 1982 and again in 1983. He also won the Poker By The Book invitational event in 2004, where he defeated Phil Hellmuth, Mike Caro, Mike Sexton, T. J. Cloutier and Doyle Brunson.
He studied a year at the Wharton School of Business at the University of Pennsylvania but quit it as well in order to become a professional gambler. Before Sklansky turned to poker, he took on a job for a short period of time as an actuary and while he was on the job, he found a fast way to calculate. He told it to his boss, which allowed him to use his new system and promised not to share this information with the other workers. Sklansky then said that this was his advantage point at the game of poker and if he knows something the other players don't, he'll use it to win money, which he did. He even admitted once that he cheated twice at the game of poker.
In 2006, Sklansky offered a betting opportunity to some Christian fundamentalists. Contestants needed first to pass a lie detector test to affirm their certainty that Jesus rose from the dead and anyone who did not believe it would find himself in hell. Any contestant that passed the test could then bet $50,000 to attempt and get a higher score than Sklansky on math SAT that would take half the time it's supposed to. All this wager and challenge was in order to prove that Fundamentalists are 10 times if not more less likely than Jews, Asians, or atheists to be scientifically brilliant. At the end, no one accepted the challenge and Sklansky withdrew from it, saying it was only a "publicity stunt".
Sklansky took a big effort to share his great knowledge on poker and gambling over the years and with that has published 13 books:
How to Make $100,000 a Year Gambling for a Living
Hold'em Poker for Advanced Players
Seven Card Stud for Advanced Players
Small Stakes Hold'em: Winning Big with Expert Play
Tournament Poker for Advanced Players
No Limit Hold'em: Theory and Practice
WSOP Winnings
1982 - $1,000 Draw High - $15,500
1982 - $800 Mixed Doubles - $8,800
1983 - $1,000 Limit Omaha - $25,500