Doyle Brunson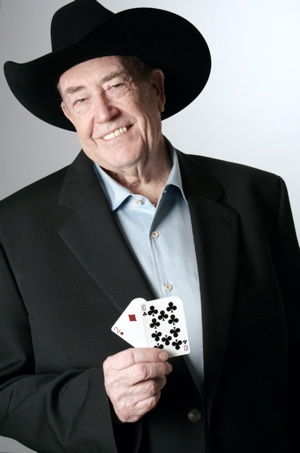 Video

Image gallery

See also
Doyle Brunson, who is also known by his nickname "Texas Dolly", was born on August 10, 1933 in Longworth, Fisher County, Texas. He is an icon when it comes to the game of poker and perhaps the greatest poker player of all times.
Brunson was the first to win two World Series of Poker (WSOP) main event titles consecutively and to date he holds 10 WSOP bracelets (tied at second place with Johnny Chan) and 1 WPT title. All this and much more gave him the honor of being inducted into the Poker Hall of Fame. Brunson was also awarded in 2006 by Bluff Magazine the title of the player that had the most influence on the world of poker.
In his early years, Brunson became a gifted athlete. Because of the small size of the town he lived in, he used to run long distances to different towns. He was also a promising basketball player and played in the All-State Texas basketball team. Brunson preferred basketball over running, but eventually participated in the 1950 Texas competition and even won the one mile event. He received offers from many colleges, but eventually decided to study at Hardin-Simmons University in Abilene, Texas since it wasn't far from his home.
Brunson's basketball career was ended due to a knee injury. It was very sad for him because at that time, the Minneapolis Lakers took interest in him and wanted to sign him as a player to their team. The injury occurred when he took a summer job where he had to upload sheetrock and at one time, a weight of about a ton got shifted and Brunson quickly tried to stop it but failed. It fell on his leg, causing it to break in two places and by that ending his basketball and running career. He had to wear a cast for two years and even now from time to time he uses a crutch because of that same injury. The injury made Brunson to leave athletics behind and take interest in education. It was a good shift for him as in 1954 he got his bachelor's degree, and the year after he got his Master's degree in Administrative Education.
His poker play started before his injury as he started playing five-card draw, but thought it was too easy for him. An interesting event in his life occurred when he was working as a business machine salesman after graduating. On his very first day at the job he was invited for a seven-card stud game, where he won more money than he made in a month on his salesman job - in less than three hours of play. Not long after that, he decided to leave the company and play poker professionally.
Brunson's first poker games were while he attended in illegal games on Exchange Street, Fort Worth, Texas. He was playing in these games but was not alone as he was accompanied by his friend Dwayne Hamilton. These games were held by criminals that didn't enforce the rules at all times. Later on, the two were traveling across Texas, Louisiana, and Oklahoma as they were playing in higher stake games and this way met professional poker players Amarillo Slim and Sailor Roberts.
Brunson said that during the times he was playing in the illegal games, at one point someone pulled a gun on him and that he was robbed and even beaten. He also teamed together with his friend Hamilton, and the two were traveling around, gambling and betting on poker, golf and almost everything they could gamble on. After six years they decided to go to Las Vegas, Nevada where they've lost all of their money, which was a six figure amount. After this failure, the two decided to stop playing together, although they remained friends.
Brunson is known to play at high stakes poker games such as the $4,000/$8,000 limit mixed poker game in "Bobby's Room" at the Bellagio hotel in Las Vegas, Nevada.
His tournament success doesn't end with his WSOP winnings and bracelets. He had also great success in other tournaments as in 2004 he won the Legends of Poker World Poker Tour and took home $1.1 million and came in fourth in the very first WPT event. He has made it 31 times to the money at the WSOP events and 5 times at the WPT events.
As for Brunson's nickname, it is a funny story. He got his nickname by mistake as Jimmy Snyder who was supposed to introduce him as "Texas Doyle" actually introduced him "Texas Dolly" mispronouncing Brunson's first name. The nickname stuck to Brunson and these days many of his close poker friends call him "Dolly".
There are two poker hands that are called after Brunson. The first is a two and a ten of any suit and that is because with this very hand, he won the WSOP two times in a row during the years 1976 and 1977. An interesting fact about his winnings with this hand is that he was twice the underdog, but on both occasions managed to complete a full house with these cards. The second hand that is called after Brunson is an ace and a queen of any suit, but he's trying to avoid playing with this hand.
As of 2008, Brunson has won over $5,300,000 in live tournaments only, and has earned a total amount of $2,808,945 in WSOP events.
Besides from playing poker, Brunson took the time to publish 6 poker books. His most famous book is titled Doyle Brounson's Super System: A Course in Power Poker which was published in 1979 and is considered by many to be the Bible of poker. The book gave regular players the opportunity to win at the poker tables as Brunson described there the way he played and won at the tables. Brunson himself believes that by publishing this book and letting his secrets out to the open actually cost him some money and a few losses at the poker tables, as other players knew what to expect and how to play properly after reading his book. The book has also a subtitle called How I made one million dollars playing poker.
More books published by Brunson are:
Doyle Brunson's Super System II
Online Poker: Your Guide to Playing Online Poker Safely & Winning Money
He also has his own poker room called Doyle's Room, where you can play against him, his son Todd who's also a professional poker player and many other guests and celebrities.
Brunson's life is full with events and not just from the world of poker. He met the woman (Louise) who would become his wife in 1960 and married her in 1962. The year she got pregnant, Brunson was discovered with a tumor in his neck. He went for an operation only to discover the cancer had spread and the doctors claimed they would not be able to cure Brunson. They decided to do another operation as it would give Brunson enough time to live and see his baby's birth but after the operation, the doctors did not find any cancer as if it has vanished. The doctors said his healing is considered a miracle. An even more interesting event occurred when Brunson's wife, Louise got sick with cancer too and right after her operation the cancer vanished as well. A sad event in Brunson's life was when his daughter, Doyla died at the age of 18 when she took too much potassium for a heart-valve condition. After her death, Brunson decided to read Christian literature and also converted his religion to Christianity.
As mentioned before, Brunson has a son named Todd, who is also a professional poker player. It seems Todd has learned a thing or two from his dad as in 2005 he won the WSOP Omaha Hi-Lo event, adding a bracelet to his wrist. Brunson has another daughter called Pamela, who played the 2007 WSOP main event where she outlasted both her father and her brother.
Brunson has made appearances on GSN's High Stakes Poker, NBC's Poker After Dark and the Professional Poker Tour.
WSOP Winnings
1976 - $10,000 No Limit Hold'em World Championship - $230,000
1977 - $5,000 Deuce to Seven Draw - $80,250
1977 - $10,000 No Limit Hold'em World Championship - $340,000
1977 - $1,000 Seven-Card Stud Split - $62,500
1978 - $5,000 Seven-Card Stud - $68,000
1979 - $600 Mixed Doubles (with Starla Brodie) - $4,500
1991 - $2,500 No Limit Hold'em - $208,000
1998 - $1,500 Seven-Card Razz - $93,000
2003 - $2,000 H.O.R.S.E. - $84,080
2005 - $5,000 No Limit Shorthanded Texas Hold'em (6 players per table) - $367,800
WPT Winnings
2004 – Legends of Poker - $1,198,260