Howard Lederer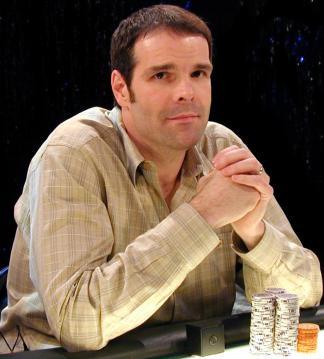 Video

Image gallery

See also
Howard Lederer was born on October 30, 1964 in Concord, New Hampshire. He holds 2 World Series of Poker (WSOP) bracelets and 2 World Poker Tour (WPT) titles. He is known by his nickname "The Professor", he is the brother of professional poker player Annie Duke, and his hometown is Las Vegas, Nevada.
When he was young, Lederer was playing chess and was quite good at it. He was actually considered as a talent. And so, after finishing high school, he decided to move to New York City and attend Columbia University. It was in one of the chess clubs that he was discovered to the game of poker and from there on he started playing at the Mayfair Club. With him in that club played known poker professionals today Dan Harrington and Erik Seidel. It was in 1994 that he decided to move to Las Vegas, Nevada and look for high stakes poker games.
He got his nickname because of his playing style which is very analytical and because of the many wins he achieved using this style of play. He has a poker video titled Winning Secrets for No Limit Hold'em, which is an instructional video and he's also in charge of the Howard Lederer Poker Fantasy Camp. He is also co-hosting Poker Superstars and Learn from the Pros, which are aired on Fox network.
Lederer is very focused and calm around the poker tables, always calculating his opponents' moves and eliminating them with his analytical style. According to him, he uses Zen techniques and wisdom and applies them at the poker tables. Add together the Zen techniques for his calmness and the analytical playing style, and you get a very dangerous player. Still, he is a human being and at times can be very temperamental. In 2002 he criticizes poker professional Daniel Negreanu for his comments about Lederer's sister (Annie Duke) and in 2003 he wouldn't shake hands with poker professional Tony G when he was eliminated from the tournament.
Lederer is also among the founders and co-founders of "Tiltware Inc", which are the owners and also the creators of Full Tilt Poker, together with Ray Bitar.
As mentioned before, Lederer holds 2 WSOP bracelets and 2 WPT titles, but he has more wins in his career, like his 2008 win of the AUD 1.25 million after winning the $100,000 No Limit Hold'em Challenge at the Aussie millions. This event was also the most expensive one due to the buy-in. As of 2008, he has won over $4,800,000 in live tournaments only.
Lederer knows to gamble from time to time and even though he doesn't eat meat (he is a vegan), he did win a bet against his friend and poker professional David Grey after he ate a cheeseburger. Eating that cheeseburger was very beneficial for Lederer, as he won $10,000 from this bet. Lederer even had a surgery to lose weight. He had an old nickname "Bubba" given to him by Doyle Brunson, but after the surgery and Lederer's loss of weight Brunson shortened it to "Bub". These days, Lederer keeps his shape and is active in sports such as basketball and running.
He is married to Suzie and they have a son called Mattias. Together with their three doges, they all live in Las Vegas, Nevada.
WSOP Winnings
2000 - $5,000 Limit Omaha Hi-Lo - $198,000
2001 - $5,000 Deuce to Seven Draw - $165,870
WPT Winnings
2002 – World Poker Finals - $320,400
2003 – Party Poker million - $289,150