Ilari Sahamies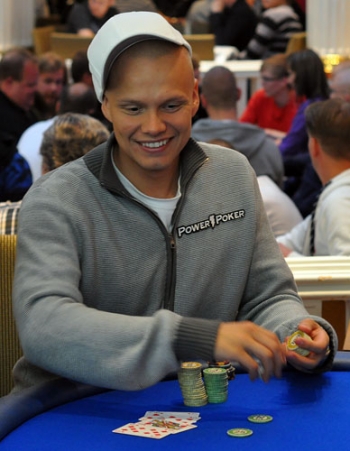 Video

Image gallery
Ilari Sahamies who is also known by his nickname "Ziigmund" was born in 1983 in Helsinki, Finland. Although he does not hold a World Series of Poker (WSOP) bracelet or a World Poker Tour (WPT) title, he is considered as a dangerous and a great poker player who specializes in the field of high stakes poker, especially in the game of pot-limit omaha high stakes cash games.
Sahamies is known for his trashtalks around the poker tables, especially those that are directed towards the poker professionals, but he claims to be good friends of all the poker pros and poker players he plays against and says the trashtalks are intended only for fun and entertainment during the game. He is an online poker expert and is considered the "new generation" of poker players, the ones who make a lot of money online and dominate the online poker rooms like Tom Dwan. Before mastering the online poker rooms, he did play live poker games and tournaments but eventually decided to focus his attention on the online poker world, where he makes these days most of his money, and we are talking about a whole lot of money.
From time to time, Sahamies returns to play live cash games and tournaments and he has made appearances in High Stakes Poker and Poker After Dark. He is ranked in the 20th place for most successful finish poker players as he has made approximately $327,241 in live tournaments only.
At the age of 18, he made his first visit to the Grand Casino in Helsinki and became a poker pro in less than two years. Nevertheless, Sahamies has some other interesting facts concerning his life style and one of them is that he enjoys consuming alcohol. What is the relation to poker you may ask? There were times when he played online poker after he was drinking and was intoxicated while playing poker. Needless to say, this act did not help him win money as he actually lost more than $3 million in the period of four years and even $700,000 in one day! The good thing is that he learned from his mistakes and actions and decided to stop this negative habit about two years ago, as now days he drinks (not a lot) only when playing live poker games. And one last thing, he is also the founder of poker hub "Coinflip.com" along with his Finnish poker pro friend – Sami Kelopuro.