Jeffrey Lisandro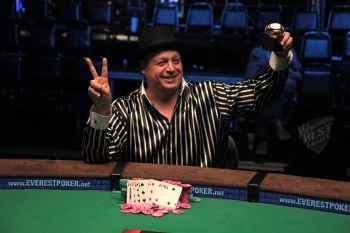 Video

Image gallery
Jeffrey Lisandro who is also known by his nickname "Iceman" was born in Perth, Australia and he's an Australian professional poker player. He currently lives in Salerno, Italy but also has a property in Santa Barbara, California.
Lisandro was taught the game of poker by his mother when he was only five years old and today he is known as a specialist when it comes to cash games, but he is no stranger to tournaments and live poker events, as he is also considered to be one of the best Seven Card Stud poker players in the world. He holds 4 World Series of Poker (WSOP) bracelets and in 2009 he was the first player to win a World Series title in all three types of Seven Card Stud at the same series as he won the Stud-High, Stud-Low and Razz.
His first WSOP final table was in 1997 in the $3,000 Pot-Limit Hold'em tournament that was eventually won by Phil Hellmuth. Since that tournament, Lisandro has made it 11 times to WSOP final tables as they were in Seven Card Stud, Omaha and 2 to 7 Lowball.
In 2004, Lisandro won $194,000 as he defeated poker pro Howard Lederer in the $25,000 Limit-Hold'em Heads-up event. He continued his good momentum in 2005 as he won $542,360 in the $10,000 No-Limit Hold'em event that was held in Lake Tahoe as he defeated Phil Ivey in the heads-up battle. Lisandro then said that he considers this to be his greatest achievement because he thinks of Phil Ivey to be one of the best poker players in the world today. In 2006, Lisandro finished the WSOP Main Event in 17th place and took home $659,730. During this event, he had an incident with Prahlad Friedman where Friedman was sure that Lisandro did not put his ante worth 5,000 in chips before the hand was dealt and during that hand Friedman always talked about it and mentioned it. The dealer constantly asked Friedman to stop his accusations but he refused to do so and even called Lisandro a thief. Lisandro could not sit quietly and told Friedman he'll knock his head off. Friedman tried to cool things off during play but Lisandro was not interested and refused talking to him. When another player at the table found out that Lisandro lives in Italy, he told him his wife lives in Italy as well and that they plan to travel there together. Lisandro responded to this by saying to this player if he can take Friedman with him to this trip, thus continuing the argument and fight between the two players.
Lisandro's first WSOP win was in 2007 in the $2,000 Seven Card Stud tournament after he defeated poker pros Nick Frangos and Daniel Negreanu at the final table and won $118,426.
Lisandro usually chews a gum around the poker tables in order to reduce possible tells he may give away but he can also be found often playing online poker at PokerStars.
2009 was probably one of the best years in poker for Lisandro as he won the WSOP Player of the Year award and 3 WSOP events and bracelets. As of 2009, he has won more than $4,000,000 in live tournaments only and cashed out 31 times at WSOP tournaments and events.
WSOP Winnings
2007 - $2,000 Seven Card Stud - $118,426
2009 - $1,500 Seven Card Stud - $124,959
2009 - $10,000 World Championship Seven Card Stud H/L-8 - $431,656
2009 - $2,500 Razz - $188,370