Jennifer Harman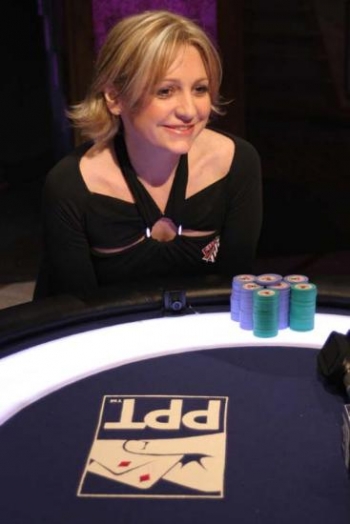 Video

Image gallery

See also
Jennifer Harman-Traniello (born Jennifer C. Harman) was born on November 29, 1964 in Reno, Nevada. She started playing poker when she was only 8 years old. She later attended and graduated from the University of Nevada.
Harman is the only woman to hold 2 World Series of Poker (WSOP) bracelets. She won her first bracelet in the year 2000 at the $5,000 No Limit Deuce to Seven Lowball event and her second bracelet in the year 2002 at the $5,000 Limit Hold'em event. The most interesting part is that Harman had never played Deuce to Seven Lowball before and coming to the tournament in the year 2000 was her first time playing this game. She received a five-minute tutoring session from Howard Lederer before starting to play and eventually won the tournament and her first WSOP bracelet.
When Harman decided to play poker professionally, it worsened the relationship between her and her father. He was not pleased with the idea and they haven't spoken to each other for years. Eventually they reconciled their differences and improved their relationship.
Harman had suffered some kidney problems and in 2004 she took a one year break from poker to have her second kidney transplant. Her sister and mother shared the same kidney problem and when she was 17 years old, she lost her mother to the illness. After receiving her second kidney through organ donation, Harman founded Creating Organ Donation Awareness (CODA), a non-profit organization in order to raise money and people's awareness to this cause.
When Harman returned to the poker tables, she showed the world she hasn't forgotten how to play and had some great runs at different tournaments. She finished 4th at the World Poker Tour (WPT) Five Diamond World Poker Classic, 5th in the inaugural Professional Poker Tour event, 2nd in the WSOP Circuit Championship event and 2nd in the inaugural World Series of Poker Europe (WSOPE) in 2007.
Harman is the only woman to play high stakes poker at the casinos and is a regular player in the "Big Game", which is the high stakes cash game at the Bellagio casino and hotel. She was also part of The Corporation, a group of poker players playing for high stakes cash games up to limits of $100,000/$200,000.
Harman's husband is Marco Traniello, a stylist who became a professional poker player himself. They have twin boys.
She appeared on GSN's High Stakes Poker and NBC's Poker After Dark where she won $120,000. As of 2009, Harman has won over $2,200,000 in live tournaments only.
She is a member of Team Full Tilt at Full Tilt Poker and is a close friend of professional poker player Daniel Negreanu.
WSOP Winnings
2000 - $5,000 No Limit Deuce-to-Seven Draw - $146,250
2002 - $5,000 Limit Hold'em - $212,440