Joseph Hachem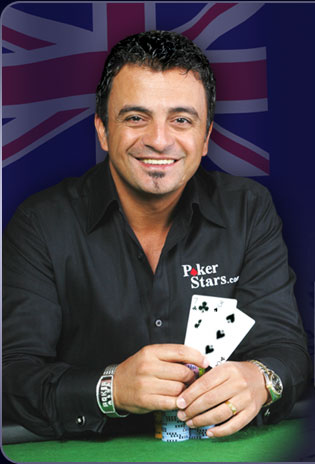 Video

Image gallery

See also
Joseph Hachem who is also known by his nickname "Diamond Joe" was born on March 11, 1966 in Lebanon and he's a Lebanese-Australian professional poker player. He holds 1 World Series of Poker (WSOP) bracelet from the 2005 WSOP Main Event and 1 World Poker Tour (WPT) title. His win of the 2005 WSOP Main Event made him the first Australian to win a main event and besides the bracelet he also took home $7.5 Million which was then the highest amount of tournament prize. Hachem continued his great momentum and the following year won his first WPT title, grabbing $2.2 Million. He has finished 10 times in the money in WSOP events and tournaments and 3 times in WPT events and tournaments. Hachem is one of five players only to win both the WSOP Main Event and a WPT title.
As mentioned before, Hachem was born in Lebanon but moved to Melbourne, Australia with his parents when he was only 6 years old. Prior to becoming a full time professional poker player he was a chiropractor, a profession that served him for 13 years. He decided to quit his work after developing a rare disorder that affected his blood vessels in his hands. Around the year 1995, he was considering what to do with his life and where he is headed now. This was also the time when he began playing poker more and more frequently, visiting casinos more often and playing online as well. In the beginning, he said about himself that he has too much temper for this kind of game but gradually learned to restrain himself and control his temper. It was around the year 2000 that he started to play casually in tournaments and events at the Crown Casino and Entertainment Complex that's located in Melbourne, Australia. He finished in the money more and more often and after 5 years of playing in tournaments and events in Melbourne, he decided to try his luck at the WSOP events in Las Vegas, Nevada and it seems his playing years in Melbourne were a great practice for Hachem before winning the WSOP Main Event in 2005.
Hachem was an unknown poker player when he entered the 2005 Main Event and just before the beginning of the tournament he decided to stop and play at the Bicycle Casino. There, some of the players made a joke about Hachem saying he was stopping there to play just before he becomes the new Australian champion. He had no idea how right he was at that time and now he's probably eating his hearth out for not betting on Hachem who was totally unknown at that time. Two weeks prior to the WSOP Main Event of 2005, Hachem signed-up to the $1,000 No-Limit Hold'em World Series tournament and won $25,850.
Hachem entered the 2005 WSOP Main Event by paying $10,000 in cash which was the entrance fee and already at the end of the first day he had $67,000 in chips. According to Hachem, the good start of the first day gave him a lot of confidence to continue and push on. When Hachem reached the final table, he got his support also from his friends at the crowd who were constantly chanting "Aussie, Aussie, Aussie, Oi, Oi, Oi!". After winning the event, Hachem waved the Australian flag and chanted the "Aussie, Aussie, Aussie" phrase himself with great joy and excitement. Later on, this phrase stuck with Hachem and is today known to be associated with him.
In 2008, an announcement was made that there will be a documentary that focuses on Hachem's 2005 WSOP Main Event win and besides Hachem, the 8 players from that final table will feature in the documentary as well. This documentary will be called "Pass the Sugar", just like Hachem said during the final table when he flopped a flush and this became a catchphrase as well. Also in 2005, Hachem finished 5th in a WSOP event that was held in the Paris Las Vegas casino and took with him $88,172.
2006 was also a great year for Hachem as he finished 2nd the $2,500 Short-Handed No-Limit Hold'em tournament out of 1,068 players, winning $256,800. In the final hand of that tournament, he was holding AQ and went all-in only to be called by Dutch Boyd that was holding A5. Hachem was favourite prior to the flop but eventually lost the hand and finished second as Boyd made his flush diamonds on the river (the fifth and final card). Although playing great and finishing second, Hachem was very much disappointed from this lose. His wife Jeanine and his friend, professional poker player Greg Raymer who was the 2004 WSOP winner were there to comfort him. In that same year, Hachem went to finish the $2,500 Pot-Limit Hold'em event in 4th place and earning himslef $90,482. To the 2006 WSOP Main Event Hachem came as the champion but finished it only in the 238th place, winning $42,882. He didn't stay disappointed for long as later that year he won his first WPT championship and enriched his bank account with $2,207,575. This victory made him one of five players to win a WSOP Main Event and a WPT title. With him in this prestigious list are: Doyle Brunson, Scotty Nguyen, Dan Harrington and Carlos Mortensen.
Hachem appeared on High Stakes Poker and Poker After Dark where he won the "World Series of Poker Champions II" event and won $120,000. In this event he defeated Main Event champions Doyle Bronson, Jamie Gold, Johnny Chan, Huck Seed and Greg Raymer. In 2007 Hachem won the PokerStars Asia Pacific Poker Tour event and in 2008 missed the final table and finished 11th in the PokerStars EPT Monte Carlo Grand Final tournament to win more than $150,000.
The 2009 WSOP Main Event, Hachem finished in 103rd place out of 6,494 players and won $40,288. Besides playing poker, Hachem also produces and hosts an Australian show called "The Poker Star" which is a reality show. Hachem is a poker mentor there who searches for the next poker player.
Hachem has advice to young and amateur poker players and it's to know when to throw away their hands even if it's hard and not to bluff too often or without any outs or chances to improve their hands. Hachem says he tries to keep the same poker face for each hand. He targets a point on the table and keeps his breathing low, trying not to give away any information about his hand. I guess it works if he's a Main Event champion and won several more poker tournaments and events.
He is married to Jeanie since 1989 and they both have 4 children: Justine, Anthony, James and David. He claims his wife supported him a lot during his difficult years and especially when he decided to turn to poker. His children play poker as well but not only for fun, as Hachem believes it helps to teach them discipline and how to handle adversity. Hachem enjoys to play golf with his poker friends and he also operates a mortgage company besides his poker interest. He is a member of PokerStars professional poker players and often plays there under the name "JoeHachem".
As of 2009, he has won over $10,850,000 in live tournaments only and his hometown is Melbourne, Australia.
WSOP Winnings
2005 - $10,000 No-Limit Hold'em Main Event - $7,500,000
WPT Winnings
2006 - $15,000 Doyle Brunson North American Poker Classic - $2,207,575