Mike Matusow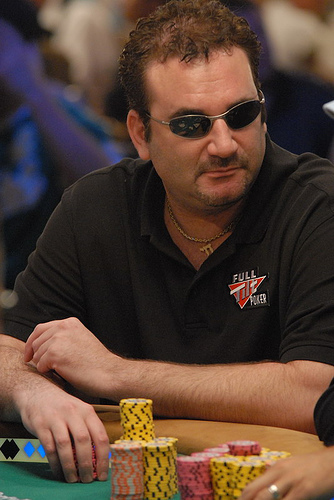 Video

Image gallery

See also
Mike Matusow (born Michael Matusow) was born on April 30, 1968 in Los Angeles, California. He is also known by his nickname "The Mouth", because he tends to trash-talk a lot around the poker tables. Matusow is also known around the poker tables for playing great poker for hours or even days, but then he always snaps and makes a huge mistake that costs him a lot of his money. This is also known as the "Mike Matusow Blow-Up" or the "Mike Matusow Meltdown".
He holds 3 World Series of Poker (WSOP) bracelets which he won in 1999, 2002, and 2008. He is also the winner of the 2005 WSOP Tournament of Champions.
Matusow was first a poker dealer before becoming a professional poker player. Even as a dealer he was playing some poker, but not too seriously. It was only in the 1990s that he started playing poker more seriously and then became a professional poker player.
Matusow is very loved by many fans and poker players, but this was not the case earlier in his life. As a kid, Matusow was bullied in the school and did not attend college. He tried to be an auto mechanic, but did not complete all the required tests for the job. Failing to become an auto mechanic, he decided to work at his family's furniture store.
When he was 18 years old, he first discovered the world of poker by playing video poker in the Maxim Casino. He used to play it for so long that he later suffered from repetitive strain injury in his shoulders and arms. Sometimes, Matusow stole some money from his mom's purse to play the video poker and later on even attended Gamblers Anonymous meetings to get some help for his addiction. It was rounder Steve Samaroff who taught Matusow to play Texas Hold'em in 1989. Matusow was doing very well and at one point he won 51 out of 53 sessions to win $250,000.
Matusow even found the time to help professional poker player Scotty Nguyen. In the 1998 WSOP he paid one-third of Nguyen's entrance fee into a satellite for the $10,000 No Limit Texas Hold'em main event. Nguyen went all the way to win the event and awarded Matusow with $333,333 in return for his help. In the 2001 WSOP $10,000 No Limit Texas Hold'em main event, Matusow finished 6th. He was bluffed by Juan Carlos Mortensen who eventually won the event and said that losing this hand was the main reason for his finish and that he did not trust his instincts to call Mortensen's bluff.
Matusow is also known for a hot temper and in the 2004 WSOP main event, he verbally attacked professional poker player Greg Raymer who eventually became the champion of the event. The 2005 WSOP, Matusow finished 9th out of 5,619 players in the main event and took home $1,000,000. It was several months later that he won the WSOP Tournaments of Champions. This win awarded him with another $1,000,000. The following year was also successful for Matusow as he finished 3rd in the Tournament of Champions and won $250,000.
Matusow participated in other poker events during the years. In 2004, Matusow made his first final table at the World Poker Tour (WPT). He finished 3rd and won $250,000. In 2006 he finished 2nd to Tony G in the WPT Bad Boys of Poker II. Matusow had another great poker tournament in the Poker Superstars III where he made it all the way to the Elite Eight where he defeated seven other poker players and won $500,000. In 2007, Matusow came in second at the World Poker Tour Bellagio Cup III Championship and won $671,320. In 2008, Matusow reached another WTP final table, but finished it in 6th place to win $124,048. So far as of 2008, Matusow has won over $7,000,000 in live tournaments only.
He is also a regular when it comes to online poker play and can be spotted on: Ultimate Bet, where he is known as "dill pickle"; PokerStars, where he is known as "mrpokejoke"; and Full Tilt Poker, where he is known as "Mike Matusow". He is also part of Team Full Tilt in Full Tilt Poker online poker site.
Matusow has also appeared in the second, third and fourth seasons of GSN's High Stakes Poker and two episodes of NBC's Poker After Dark where he finished third and second.
As mentioned before, Matusow is very much loved by poker fans, but some fans dislike him. At the 2007 WSOP Main Event final table, Matusow got mixed reaction from the crowd when he was introduced, as there were fans that cheered him alongside fans that booed him.
Winnings and success were not the only things in Matusow's life. During the years he had also suffered from some personal problems. He had drug issues and even spent some time in jail in the years 2004 and 2005 after he was caught with cocaine. He was arrested by an undercover police officer, who pretended to be Matusow's friend and gained his trust. The police officer asked Matusow for cocaine and after Matusow got it for him, he was arrested. Matusow also battled his overweight problem and during the 2007 WSOP event he even made a $100,000 bet with professional poker player Ted Forrest that he will drop to 181 pounds by June 3, 2008. Matusow won the bet after weighing in at 179 pounds.
Matusow resides in Henderson where his home has a cathedral ceiling. He also owns a $90,000 BMW 645 CI Cabriolet. He bought the car after winning a $750,000 online poker session. He is also often seen around the poker tables with a gold chain around his neck with the Hebrew symbol "chai".
WSOP Winnings
1999 - $3,500 No Limit Hold'em - $265,475
2002 - $5,000 Omaha Hi-Low Split 8 or Better - $148,520
2008 - $5,000 No Limit 2-7 Draw w/Rebuys - $537,862