Phil Gordon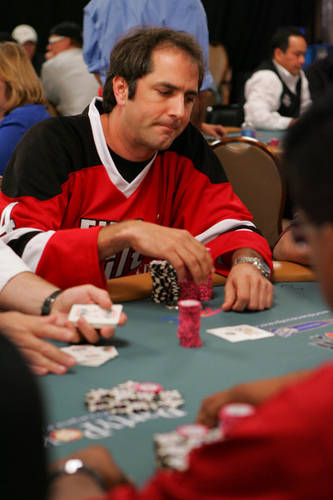 Video

Image gallery
Phil Gordon (born Philip Stewart Gordon) was born on June 6, 1970 in El Paso, Texas. His nickname is "Tiltboy", and his hometown is Las Vegas, Nevada. He holds one World Poker Tour (WPT) bracelet, which he won in 2004.
Gordon is one of the tallest poker players around, reaching a height of 2.06 meter (6 ft 9 in) and besides successfully playing poker, he has also won two national bridge tournaments.
Gordon attended Georgia Tech and also graduated with a degree at computer science in 1991. He worked at Santa Cruz Operations and also at Lockheed. Later on, he joined Netsys Technologies, which was a start-up and was one of their first employees. Joining the start-up was probably a wise choice by Gordon, as in 1996 it was bought by Cisco Systems and this purchase actually made him a very rich man - a millionaire, to be precise. In 1997 he decided to quit high-tech in order to travel around the world and later on start playing poker.
The first time Gordon played at the main event of the World Series of Poker (WSOP) was in 2001. It was a wonderful tournament for him, as he finished it in 4th place and took home $400,000.
2002 was also a great year for him as he made it twice that year to the final table at the WSOP events. He finished 6th in the $2,000 Pot Limit Hold'em tournament and then 3rd in the in the $2,500 Omaha Hi/Lo Split tournament. In 2005, he came in 3rd in the $1,500 No Limit Texas Hold'em Shootout competition.
Gordon has made it several times to the final table at the WSOP events, but has never captured the title. He has made it 16 times in the money at the WSOP events and as of today, he won $641,073 at those events.
Gordon has won the WPT's Bay 101 Shooting Stars competition in 2004, but the most interesting event at that competition happened when Gordon himself eliminated two players at the same time. He also won the professional category of the UltimateBet Aruba first tournament back in 2002, but lost the title to the winner of the amateur category Juha Helppi, who became the winner of the tournament.
On Thanksgiving of 2006, Gordon was the winner of the Full Tilt Poker Championship at Red Rock as he beat five other notable poker players and took home the first prize of $600,000. In 2007 he earned $25,000 at the 2007 NBC National Heads-Up Poker Championship tournament, as he finished that tournament in the top 16 eliminating along the way both Scotty Nguyen and Jamie Gold.
As of 2008, Gordon has won over $1,700,000 in live tournaments only.
Gordon is also a respected and known commentator in the poker world. He was the commentator on Bravo's Celebrity Poker Showdown for as long as seven seasons up until 2006 when he quit. He was also a commentator for ESPN's pay per view show for the final table of the WSOP main event championship in the years 2006 and 2007.
Gordon has published 3 poker books: Poker: The Real Deal in 2004, Phil Gordon's Little Green Book: Lessons and Teachings in No Limit Texas Hold'em in 2005, and Phil Gordon's Little Blue Book: More Lessons and Hand Analysis in No Limit Texas Hold'em in 2006. He has also released a successful DVD titled Insight: Final Table Poker, which is an instructional poker DVD.
Poker has also an emotional touch in Gordon's life. He learned the game of poker from his aunt who eventually died of liver cancer. Because of that, Gordon has started fundraising as a member of the Cancer Research and Prevention Foundation. He supports this charity since 2003.
He has a son that was born on May 28, 2008 and he is called Alexander "Xander" Smith Gordon.
WPT Winnings
2004 – Bay 101 Shooting Star - $360,000