Phil Ivey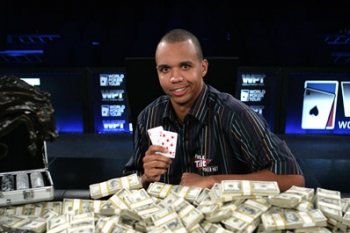 Video

Image gallery

See also
Phil Ivey (born Phillip D. Ivey) was born on February 1, 1976 in Riverside, California. He holds eight World Series of Poker (WSOP) bracelets and one World Poker Tour (WPT) title. He also reached the WPT final table an amazing number of eight times. Ivey is also known by his nicknames "The Tiger Woods of Poker" and "No Home Jerome".
Ivey improved his poker skills while playing with his co-workers at a New Brunswick, New Jersey telemarketing firm in the 1990s. By the time he was 16, he used to play backroom games for money and by the time he was 18, he already owned a $50 ID he got from a guy at his telemarketing job. The guy's name was Jerome Graham and when Ivey was spending plenty of time playing at live tables in Atlantic City, players in the casino started calling him "No Home Jerome", which became one of his nicknames. Today Ivey is one of the best poker players in the world, but at first things were quite different as he lost quite a while playing in Atlantic City. He lost so much that there were times he when paid his rent late, with the hot water being shut off and the electricity cut as a result.
Although Ivey prefers these days to focus more on cash and high stakes games, he has a great record when it comes to tournaments with his seven wins in the WSOP, the win in the WPT and reaching the final table of the WPT eight times. His greatest tournament year was probably 2002, when he won three WSOP bracelets, thus tying with Phil Hellmuth, Ted Forrest and Puggy Pearson for most wins in a single year. He also finished three times in the top 25 places of the WSOP from 2002-2005 (23rd in 2002, 10th in 2003, 20th in 2005). Ivey's success in tournaments is shown in the WPT events as well as he cashed nine times, including one tournament win which granted him the first prize of $1,596,000. So far, Ivey has earned almost three million dollars in WPT events. He also made a great tournament in the European Poker Tour (EPT) in 2006 as he made it to the final table as the chipleader, but eventually finished second to Bjorn-Erik Glenne from Norway.
Ivey participated in other tournaments, such as the European Poker Masters in 2006, where he made it to the final table, but finished only seventh to win $12,534, as well as the Monte Carlo Millions tournament, where he finished first to win $1,000,000. Ivey did not stop to celebrate as only a day later, he won another $600,000 by finishing first again at The FullTiltPoker Invitational Live that was held also in Monte Carlo. In this tournament he defeated the greatest poker players today, like Mike Matusow, Gus Hansen, Phil Hellmuth, Chris Ferguson, Dave Ulliot and John Juanda.
2010 started for Ivey as a dream as he participated in the Aussie Millions $100,000 Challenge and finished it in second place. He did not like his heads-up lose against Dan Shak who works as a day trader, but his second place win in the tournament awarded him with $544,219 and a new title which was becoming the all time leading money winner in tournaments, passing Daniel Negreanu who held first place before Ivey took the spot.
As mentioned before, Ivey prefers to focus his attention these days in cash and high stakes games and he does that by being a regular participant in the $4,000/$8,000 mixed cash game at the Bellagio hotel in Las Vegas, Nevada.
In 2006, he played heads-up against Texas billionaire Andy Beal in a Limit Texas Hold'em game where the stakes were as high as $25,000/$50,000. Over the course of three days, Ivey eventually won an astonishing amount of over $16,000,000!
Ivey is also part of "The Corporation", a group of professional poker players that play for high stakes cash. Ivey played for the Corporation when he won against Andy Beal and with that win actually restored some of the pride and money of the group, since earlier it was Beal who won $10,000,000 from the Corporation.
Ivey is also a part of Team FullTilt Poker and he often can be found playing online at tables where stakes range from $500/$1,000 No-Limit to $2,000/$4,000 Limit. Sometimes you can catch him playing at the $0.50/$1.00 tables as he knows people will gladly play against him, but most of them don't have the cash for the big games. He often offers tips and stays to see if people listen to him and learn something from the true professional.
Ivey also appeared on NBC's Poker After Dark where he won $120,000 by defeating Mike Matusow, Tony G, Andy Bloch, Phil Hellmuth and Sam Farha and on GSN's High Stakes Poker series.
Besides poker, Ivey is a known basketball fan (specifically for the Los Angeles Lakers and the Houston Rockets) and can often be seen wearing basketball jerseys. His hobbies are playing video games, prop betting, and playing golf. He is married to Luciaetta and lives these days in Las Vegas, Nevada.
Ivey is also known in the poker world for his terrifying stare. He retains a cool face which seems as if he does not move a single muscle. He does not tend to smile a lot at the poker tables and his piercing stare make a lot of opponents very uncomfortable.
As of 2010, Ivey has won more than $12,800,000 in live tournaments only!
WSOP Winnings
2000 - $2,500 Pot Limit Omaha - $195,000
2002 - $2,500 7 Card Stud Hi/Lo - $118,440
2002 - $2,000 S.H.O.E. - $107,540
2002 - $1,500 7 Card Stud - $132,000
2005 - $5,000 Pot Limit Omaha - $635,603
2009 - $2,500 No-Limit 2-7 Draw Lowball - $96,367
2009 - $2,500 Omaha Hi/Lo / 7 Card Stud Hi/Lo - $220,538
2010 - $3,000 H.O.R.S.E. - $329,840
WPT Winnings
2008 - $10,000 L.A. Poker Classic - $1,596,100