Rising Poker Stars of 2011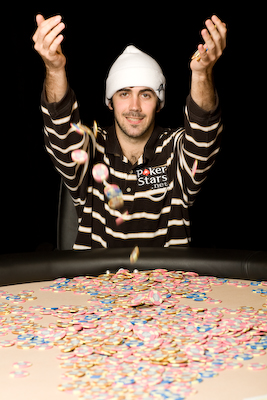 Rising Poker Stars of 2011
As poker continues to hold a place in popular culture, with heart throb Christian Slater set to take the starring role in the poker themed film "Guns, Girls and Gambling" this summer and the stars of the big game tables gaining names for themselves across the world thanks to a global poker following. As more and more people rush to www.partypokerbonuscodes.com to try their hand at a few hands we take a look at some of the names to watch in 2011…
2011 is set to be another big year in poker circles with state and federal politicians in the US racing to bring in legislation legalising the online game in additional states and a packed calendar of big bucks poker tournaments such as the WSOP already underway. With so much going on fans of the game may find the number of fresh faces confusing – so here a just a few to keep an eye out for as the betting and calling continues.
Here Come the Girls!
Women are becoming more and more of a force to be reckoned with on the professional poker circuit with a couple of hot tips for 2011 being stakes gaming girls. First on the list is UK based poker player Liv Boeree.
Hailing from the southern English county of Kent, Liv is the newest poker pin-up. Playing in tournament games last year Liv is believed to have netted an impressive $40,000, taking home the same amount from her cash games in the same time frame. Having already faced the likes of Toni Pettersson and Jakob Carlsson, Liv knows her poker and is destined for bigger and better things this year if the pundits are to be believed.
Leo Margets, the lady from Spain is a another one to watch, having placed 27th in the WSOP back in 2009 and believed to have taken pots over the course of her career totalling a cool $375,000.
A third female hot tip for the 2011 poker calendar is 2009 European Poker Tour Champion Sandra Naujoks from Dortmund – Naujoks netted a cool $1,400,000 + with that win becoming only the second ever woman to claim the title.
Don't Forget the Boys!
While women's star is certainly on the rise in the world of poker the game is still dominated by some brilliant male players with a number of wannabes hot on their heels attempting to climb up the rankings and gain a place in the annals of poker history.
Poker players to watch in 2011 include Thomas Marchese (the "King of Cards") who burst onto the world poker stage last year with a win at the NAPT Venetian Main Event which saw him pulling in a tasty $825,000.
Also on the poker pundits' radar is Jason Mercier whose Bounty shootout win in 2010 was just the beginning of a steep climb through the rankings that almost took him the top table of the World Poker Tour in Foxwoods –definitely one to watch.
Canadian Player Jonathan Duhamel took the title at the main event of the World Series of Poker last year taking a $9,000,000 payout home. However, observers remain unsure as to whether he will be able to recreate his stunning performance at the 2011 poker tables.