Sam Farha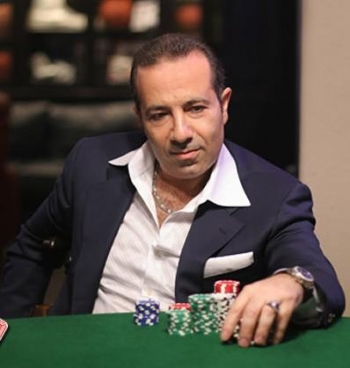 Video

Image gallery

See also
Sam Farha (born Ihsan Farha) was born in Beirut, Lebanon in 1959. He is also known by his nicknames "Sammy" and "Mister Cool", and his hometown is Houston, Texas.
Farha moved to the States when he was a teen at the time the Lebanese Civil War broke out. In 1977 he settled in Wichita, Kansas and attended the University of Kansas. Farha graduated with a degree in business administration and later on moved to Houston, Texas where he worked with his brother.
The first time Farha played a game of poker was only a year after moving to Houston, Texas. He won several thousand dollars and in the year 1990 he decided to quit his job in order to play poker full time and to become a professional player.
In the 2003 World Series of Poker (WSOP) Main Event, Farha was close to the victory and the championship bracelet, but finished only second to the event's winner Chris Moneymaker. Farha almost did not reach second place, as earlier in the tournament he lost a huge pot to Barry Greenstein on the second day of play. His thoughts then were to leave the tournament, but he was talked into staying and keeping on playing by same Barry Greenstein who took almost everything Farha had. Staying in the tournament seemed to be worth it, as Farha eventually finished second. He lost the final hand after going all-in with a pair of jacks on the flop only to be called by Moneymaker, who flopped two pair. Finishing second awarded him with $1,300,000.
A few months later, PokerStars decided to organize a rematch between Farha and Moneymaker, and in that rematch it was Farha who came on the top. He won, thus achieving his small revenge.
Although coming second in the main event might have been Farha's biggest achievement in the World Series of Poker, he does hold two bracelets from winning World Series of Poker events in 1996 and 2006.
Farha published a book called Farha on Omaha: Expert Strategy for Beating Cash Games and Tournaments in 2007 and currently is working on another book called "Luck is Not Enough". He also appeared on GSN's series High Stakes Poker and is the spokesman for Harrah's casino in Las Vegas, Nevada.
As of 2008, he has won over $2,100,000 in live tournaments only. He tends to play all kinds of poker games, but his expertise is without a doubt playing Omaha poker.
Farha is often seen around the poker tables with an unlit cigarette and from time to time he tends to change cigarettes, usually after bad beats. Farha is not a smoker, but the cigarette is definitely his known trademark.
Besides poker, Farha has other skills and they were well shown as he won a pinball tournament in Kansas and also won a big bet by winning a Pac-Man competition.
WSOP Winnings
1996 - $2,500 Pot Limit Omaha - $145,000
2006 - $5,000 Limit Omaha 8/b - $398,560
2010 - $10,000 Omaha Hi-Low Split-8 or Better Championship - $488,241
The new Curve 8530 BlackBerry is the best Android phone today. It is more than just your regular cell phone as it is a complete entertainment system to enjoy wherever you go. Now you can play games, listen to music, adjust your ring-tones, take pictures and have all the social networking capabilities that this phone offers anywhere, anytime.