Tedd Forrest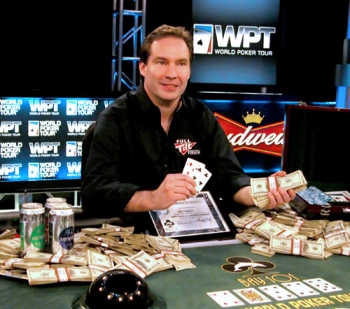 Video

Image gallery

See also
Ted Forrest was born on September 24, 1964 in Syracuse, New York. He holds five World Series of Poker (WSOP) bracelets and one World Poker Tour (WPT) title. He is known by his nicknames "Professor Backwards", "The Suicide King", "The Hitman". His hometown is Las Vegas, Nevada.
Before he became a professional poker player, Forrest worked in a hotel near the Grand Canyon when he was 20 years old. He used to play in modest poker games and actually won some money which he could afford his studies with. With this money he won at the poker tables, he went to college and attended Lemoine College.
In 1993, Forrest has won 3 WSOP bracelets, an achievement not a lot of poker players have. Around 1995, he decided to shift his full attention to cash games instead of tournaments. Later on he returned to play in tournaments in 2004 and won another 2 WSOP bracelets. He has made it in the money 21 times in WSOP events and 9 times in WPT events. He also reached the final table 5 times in WPT events. More than that, he is a winner of the Professional Poker Tour (PPT) championship.
Forrest is known to be a high stakes gambler and a very competitive one. Being the gambler he is, he enjoys many bets, among them are betting for $10,000 with John Hennigan that Leif (Huck Seed's brother) won't be able to run to Los Angeles from Las Vegas while sleeping only twice.
He is considered to be one of the best Stud players in the world, and although Stud is his expertise and not Hold'em, he has also won several Hold'em events. He has advanced to the quarter-final in season 2 of the Poker Superstars Invitational Tournament and also appeared on GSN's High Stakes Poker series.
In 2006, he won the annual National Heads-Up Poker Championship eliminating Erik Seidel, Chad Brown, Ernie Dureck, Sam Farha, Shahram Sheikhan ("Sheiky") and Chris Ferguson (in this order) to take home the first prize of $500,000.
He did not stop there, as in 2007 he won the Bay 101 Shooting Stars event where he defeated J. J. Liu in the longest heads-up play in the history of WPT events. For his win, Forrest took home another $1,100,000.
As of 2008, he has won over $5,400,000 in live tournaments only.
Forrest had an unfortunate event as his first 3 bracelets were stolen. His two other bracelets are secured as one he gave to his daughter and the second he locked away.
WSOP Winnings
1993 - $1,500 Seven Card Razz - $78,400
1993 - $1,500 Omaha 8 or better - $120,000
1993 - $5,000 Seven Card Stud - $114,000
2004 - $1,500 Seven Card Stud - $111,440
2004 - $1,500 No Limit Hold'em - $300,300
WPT Winnings
2007 – Bay 101 Shooting Star - $1,100,000