Tom Dwan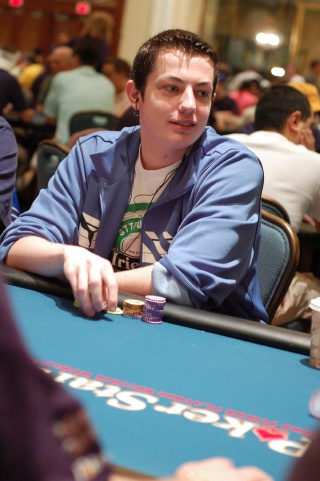 Video

Image gallery

See also
Tom Dwan who is also known around the poker and internet world as "durrrr" was born on July 30, 1986 in Edison, New Jersey. He is a young professional poker player who enjoys playing for high stakes and is considered one of the best on-line poker players today. He is often seen at the No-Limit Hold'em and the Limit Omaha tables on Full Tilt Poker. You'll know he's there once you see his nickname ("durrrr") and the huge bankroll he brings to the table.
Making the big bucks and the name for himself were the result of his developing on-line poker career. He started playing on-line poker when he was only 17 years old and his bankroll consisted of no more than $50 when his focus at first was the $6 SNG tables. When Dwan felt he mastered the SNG tables, he decided to move on and play the cash games. There, he played in the low stakes and slowly built his bankroll.
This playing strategy seemed to pay off, since today you'll find him playing at the $500/$1,000 stakes where he plays against other professional poker players and does not hesitate to take huge chunks of money from them. Among the professional players he played and won against are: Phil Ivey, Gus Hansen, David Benyamine, Patrik Antonius, John Juanda and more.
Dwan stated that since he started playing on-line poker, he never went broke. Although he lost some money on-line, he managed to win it back and even more. One memorable hand he lost with was his KK vs. Di Dang's AA. This hand also featured the biggest pot ever played on-line with the amount reaching $723,938!
Although Dwan lost this hand, it is estimated that in 2008 only he has won over $5.4 million in on-line poker, playing on Full Tilt Poker.
In the year 2009, Dwan issued his Million Dollar Challenge, where he's willing to play on-line heads-up against anybody for 50,000 hands, 4 tables, for stakes of $200/$400 or more in the games No-Limit Hold'em and Pot-Limit Omaha. If after 50,000 hands Dwan's opponent is ahead, the opponent will receive $500,000 plus an additional $1,000,000. If Dwan is ahead after 50,000 hands, Dwan will receive additional $500,000. Dwan will not have to sit around and wait for long, since professional poker players Phil Ivey and Patrik Antonius announced they've accepted the challenge and another professional poker player (David Benyamine) said he's considering the idea.
Dwan also had his shots at live poker tournaments. In 2005, when he was 19 years old, he finished 12th in the £3,000 No-Limit Texas Hold'em EPT Main Event and won $12,398 (£7,000). In 2007, when he was 21 years old, he finished even higher as he came in 4th at the 2007 WPT $9,700 No Limit Hold'em Championship, earning $324,244.
2008 was also a good year for Dwan, as he finished the Aussie Millions A$3,000 Pot Limit Omaha with Rebuys tournament in 2nd place, earning $90,716 (A$103,200). Later that year he finished in the money again at the A$10,000 No Limit Hold'em Main Event, grabbing $21,976. He was also close to winning the 2008 WPT Borgata Winter Open but eventually finished it in 2nd place, earning a nice prize of $226,100.
As for the World Series of Poker (WSOP) tournaments in the states, he has made it to the final table in the $10,000 World Championship Mixed Event in 2008, where he finished in 8th place and won $54,144. He also finished in 8th place at the $5,000 No-Limit 2-7 Draw with Rebuys event, winning $45,110.
Dwan has made some appearances on NBC's National Heads-Up Poker Championship, Poker After Dark, and on GSN's High Stakes Poker.
As of 2008, he has won over $1,000,000 in live tournaments only, but the really big money he has won was from playing poker on-line.