Poker Jewelry
Poker Jewelry: Poker Bracelets, Poker Trophies, Poker Earrings and Rings, and much more. Showcase your unique style with the most elegant and gorgeous poker jewelry you can find online.
Pages: 1 2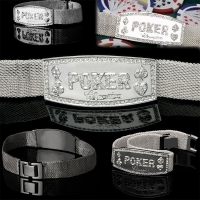 This is a Heavy plated 50 mills of silver with 95 embedded Swarovski crystals and is available in three engraving options. It's 8 inches long, 2 inches wide, 3/4 inches high and weights 45 grams.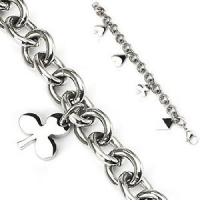 8.25 inch 316L stainless steel four suit poker bracelet. Links are 13x10mm, diamond charm is 22x13mm, club is 16x15mm, heart is 18x15mm and spade is 18x15mm.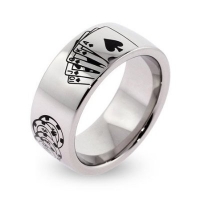 Designed with poker chips, dice, slot machine numbers and cards, this Stainless Steel Poker Ring will bring the best of luck to you at home poker games or maybe even at the casino! The band measures 8mm wide and will rest comfortably on your finger all day and all night. Choose from sizes 5-12.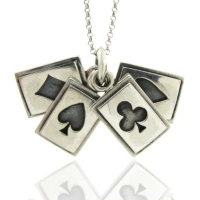 This is a unique and top quality pendant. Show your love to the game and win even for luck at home poker games and casinos.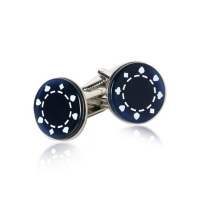 Chips made from fiber optic glass, which is made by fusing millions of fiber optic glass strands together, which creates glass that changes color when seen under different lighting conditions. Each chip has 2 clubs, 2 hearts, 2 spades, and 2 diamonds on them. Conservative enough for the office; but far from boring. This is a great gift idea for a card player or gambler in your life. Pair with any classic shirt and pull out similar or complementary hues in a shirt or tie. Each pair is made by hand to ensure top quality, lasting pair. Cufflinks arrive in high-quality chrome presentation box. Nice lightweight feel works well with French cuff shirts and blouses. Set in rhodium silver frame so it never needs polishing. Covered by Cuff-Daddy's Lifetime product guarantee. Great for wedding parties!
More about Texas Hold 'Em Poker Chip Blue Fiber Optic Silver Cufflinks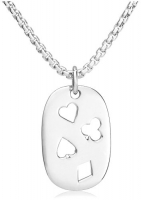 This sterling silver tag pendant is perfect for the poker player. Cut-out shapes of heart, club, spade, and diamond are featured on a smooth, polished oval tag that's pierced by a circle bale. The pendant is showcased on a sturdy 20-inch sterling silver link chain that fastens with a lobster-claw clasp.
Pages: 1 2