5 Types Of Online Poker Jackpot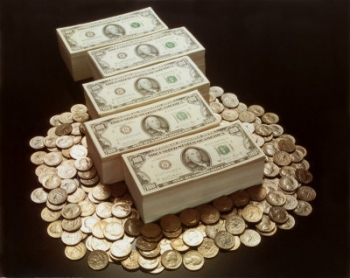 5 Types Of Online Poker Jackpot
Small stakes poker players now have a bigger choice than ever of opportunities to grab a windfall via the many types of online poker jackpots. These can boost your bankroll by anything from a few thousand to more than $100,000! What is more, in many cases you still get to play your regular poker games.
The 5 types of jackpots covered are: Bad Beat Jackpots, High-Hand Jackpots, Jackpot Sit N Goes, 'Doubles' Tournament Jackpots and Loyalty Scheme Jackpots.
Online Poker Jackpots #1 – Bad Beat Jackpots
Many poker sites now feature special bad-beat jackpot tables. If you play on one of them and are beaten holding quad-8's or better then you get a huge prize. These jackpots are cumulative (paid for with a few cents extra rake per hand) and have been known to get to more than $1 million. The player who is beaten gets the biggest share, with the winner of the hand getting a proportion and a few percent going to the other players at the table. I can personally recommend the huge jackpots payouts at Full Tilt Poker – Check them out for yourself now!!
Online Poker Jackpots #2 – High-Hand Jackpots
These take the form of bonuses given to the holder of the best hand on any particular day, or as a special one-off payment for players making a Royal Flush. Payments can be several hundred dollars – which is a great boost for just playing you usual games!
Online Poker Jackpots #3 – Jackpot Sit N Goes
The idea here is that you win 5 or 6 Sit N Go tournaments in a row and win a jackpot prize of up to $50k. Several networks now offer these, with the best known being iPoker's Jackpot Sit N Goes which feature levels starting at just $2+ fees. These games offer a consolation prize of a few hundred dollars if you come 2nd in one of the games.
Online Poker Jackpots #4 – Daily Double Tournament Jackpots
Tournament players can also enjoy special payouts. These have different names at different poker sites, though the basic format is the same. You join 2 tournaments, and win a cumulative jackpot for getting to the final table of both games. This can be $10's of thousands at the bigger sites. Remember, that you will already have earned a huge payout from the normal final table prizes!!
Online Poker Jackpots #5 – Loyalty Scheme Jackpots
Our last category could also include special promotions. Here I am thinking of the schemes which give you random cards as you earn points or play hands. Of you can use your cards to make a royal flush (or another designated hand) then you could be in for a huge jackpot. These schemes include the Party Poker 'Million Dollar Hand' promotion and the ongoing 'Gold Cards' loyalty promo on the Cake Poker Network. You can also swap lesser 'hands' that you make with your free cards for smaller bonuses.