Jerry Yang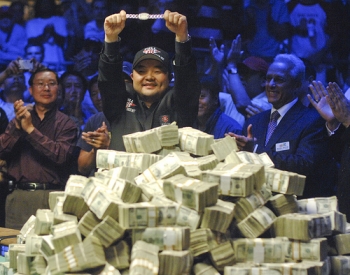 Video

Image gallery

See also
Jerry Yang (born Xao Yang) was born in the 1968 in Laos and his hometown today is Temecula, California. He holds one World Series of Poker (WSOP) bracelet and is known for his win at the 2007 WSOP Main Event where he won his bracelet and $8,250,000 in cash.
He began playing poker in 2005 and was only an amateur. After he won a $225 satellite at the Pechanga Resort and Casino in Temecula, he was able to enter the 2007 WSOP Main Event, which he eventually won becoming well known to the entire world.
When he reached the final table at the Main Event, he was only 8th according to his chip count, but soon enough he became the chip leader and from there on he did not lose this lead and won the event. At the end, only Yang and Tuan Lam were left to battle in the heads-up play, which ended with Yang's 8(c) 8(d) defeating Lam's A(d) Q(d). After the flop, Lam hit his queen and was leading with his pair only to lose to Yang in the river when the 9 that showed up gave Yang the straight. Yang said he won the tournament by playing aggressively. Even when he had nothing, if he sensed weakness in his opponents, he played aggressive poker and applied the pressure on the other players.
Yang promised to donate 10% of his winnings to 3 charities: Make a Wish Foundation, Feed the Children and Ronald MacDonald House. He also promised to donate to Loma Linda University.
He tried to protect his title in the 2008 WSOP Main Event but was defeated on the second day of the tournament.
Yang was born in Laos, but his family moved to Thailand because of the communists taking over in Laos in the 1970s. They had to spend four years in a refugee camp in Thailand, where Yang lost a brother and a sister. It was in 1979 that he and his family could move to the States and finally live a better life without fear and anxiety.
These days, Yang lives in Madera, California. He has a Master's degree in health psychology and before playing poker he was working as a therapist and social worker. After he won the Main Event, he decided to open a new chapter in his life and left his job. He is also a family man as he has a wife and six children.
WSOP Winnings
2007 - $10,000 No-Limit Texas Hold'em Main Event - $8,250,000