Johnny Chan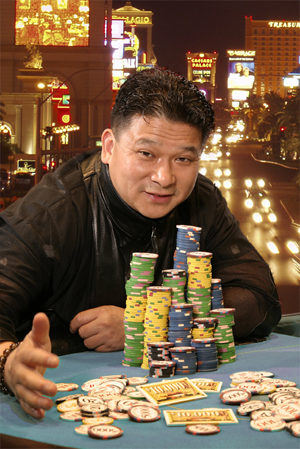 Video

Image gallery

See also
Johnny Chan, who is also known by his nickname "The Orient Express", was born in 1957 in Guangzhou (Canton), China. Nowadays he lives in Las Vegas, Nevada. Chan got his nickname back in 1981, when he competed in Bob Stupak's American Cup poker tournament. He made it to the final table and defeated 9 other players in less than an hour. After that, Stupak gave him the nickname.
Chan moved quite a while when was a kid. His first move was in 1962 when he moved with his family to Hong Kong, then in 1968 moved to Phoenix, Arizona and then in 1973 to Houston, Texas, where his family owned restaurants. Chan planned to continue with the family business, but a visit in Las Vegas, Nevada at the age of 16 changed his future plans.
Chan attended the University of Texas, but when he was 21, he dropped out. He was majoring in hotel and restaurant management, but did not graduate. Instead, he decided to move to Las Vegas, Nevada to become a professional gambler.
Chan holds an amazing number of 10 World Series of Poker (WSOP) bracelets. He said that his first winnings were because many players did not play before against Asian players and he took advantage of it. He is one of the few players to win a back to back World Series of Poker title when he won in the years 1987 and 1988. The 1988 WSOP final heads up match can also be seen in the movie Rounders. Chan is without a doubt one of the best and respected poker players in the world. He almost made history by winning 3 WSOP titles in a row but finished only second to Phil Hellmuth in 1989. By this, Chan missed the chance to own an NBA championship ring as Jerry Buss, owner of the NBA team the Los Angeles Lakers, promised him a ring if he could win three titles in a row.
Chan is known for having an orange in front of him while playing poker, as he sees this orange as his lucky orange. Eventually, more fruits began to show up around the poker tables as other players began to bring different fruits to the table after Chan won his consecutive WSOP Main Event title. Chan said that the only reason he had an orange with him is because its pleasant scent helped him deal with the smoke from the cigarettes that bothered him. Chan used to smoke in the past, but nowadays he neither smokes nor drinks alcohol.
Chan is currently in second place in number of WSOP bracelets (10) and he shares this place with Doyle Brunson, who has also 10 bracelets of his own. The current leader is Phil Hellmuth with 11 bracelets. Aside from all the bracelets, Chan will also remember the year 2002 - the year when he was inducted into the Poker Hall of Fame.
Chan displayed his great poker skills in the year 2005 as he competed in the $400,000 Poker Superstars Invitational Tournament. He was close to being eliminated with having only $20,000 in chips, but performed a great comeback and finished second to Gus Hansen. Chan did not finish impressing there ,as he returned that same year to compete in the Poker Superstars II, where he defeated 22 of the best poker players to reach the finals. Chan continued his great momentum in the finals, where he defeated Todd Brunson (son of Doyle Brunson) after 3 matches and won the $400,000 first prize. Chan also appeared in Poker Superstars III and played some great poker there as well, as he made it all the way to the semi-finals, but was defeated by same Todd Brunson after 3 matches.
Chan appeared in GSN's High Stakes Poker series and in NBC's Poker After Dark series, where he won 3 times out of 5 appearances, each time taking home $120,000. As of 2008, Chan has won over $6,700,000 in live tournaments only.
Besides playing poker, Chan owns a fast-food franchise in Las Vegas, Nevada. He is also a consultant to various casinos and game makers and once said that one of his dreams is to open his own casino.
Johnny Chan collaborated with Mark Karowe to publish 2 poker books. The first in 2005 titled Play Poker Like Johnny Chan, Book One: Casino Poker, which is an instructional book on various type of poker games, and the second in 2006 titled Million Dollar Hold'em: Winning Big in Limit Cash Games, which focuses on Limit Hold'em strategy.
WSOP Winnings
1985 - $1,000 Limit Hold'em - $171,000
1987 - $10,000 No Limit Hold'em World Championship - $625,000
1988 - $10,000 No Limit Hold'em World Championship - $700,000
1994 - $1,500 Seven Card Stud - $135,600
1997 - $5,000 Deuce to Seven Draw - $164,250
2000 - $1,500 Pot Limit Omaha - $178,800
2002 - $2,500 No Limit Hold'em Gold Bracelet Match Play - $34,000
2003 - $5,000 No Limit Hold'em - $224,400
2003 - $5,000 Pot Limit Omaha - $158,100
2005 - $2,500 Pot Limit Hold'em - $303,025