Peter Eastgate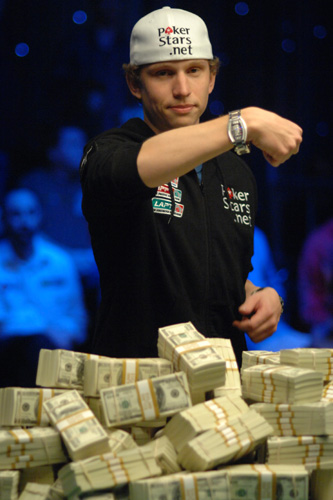 Video

Image gallery

See also
Peter Eastgate (also known by his nicknames "Icegate" and "Isser") was born on December 13, 1985 in Odense, Denmark. He became known in the poker world for his WSOP Main Event win in 2008. Besides the bracelet and money he won, he also set a new record for becoming the youngest player to win a WSOP Main Event at the age of 22, beating Phil Hellmuth's record which dominated the category since his win in 1989, when he was 24 years of age.
Eastgate studied at Sct. Knuds Gymnasium, where he was first exposed to the game of poker. He continued his education and went to Aarhus University, where he studied finance but decided to quit in order to play poker professionally.
Eastgate is an example for a player who made his way to the WSOP Main Event through playing online. He qualified to the event after playing in a satellite in Ladbrokes poker website and when he came to Las Vegas, Nevada to play the Main Event, he was already part of the Ladbrokes team.
Eastgate advanced to the final table with 18,375,000 chips only and was a 4-1 favorite of winning the event. With him in the final table were also Scott Montgomery with 19,690,000 in chip, Ivan Demidov with 24,400,000 in chip and Dennis Phillips with 26,295,000 in chips. At the end it was Eastgate vs. Demidov in a heads-up play for the title. The game was over when Eastgate had 120 million in chips against Demidov's 16.45 million in chips. In this stage, Demidov decided to go all in and lost his hand to Eastgate who became the youngest champion in a WSOP Main Event.
Eastgate's win gave him his first bracelet and an astonishing amount of $9,152,416.
Eastgate also made it to the final table in the 2007 Irish Poker Open and in the money in the 2008 European Poker Tour (EPT) event which was held in Copenhagen, Denmark. After his 2008 WSOP Main Event win, he continued his great success and went to win another event to take home $343,000. So far as of 2009, he has won over $9,700,000 in live tournaments only.
WSOP Winnings
2008 - $10,000 No-Limit Texas Hold'em Main Event - $9,152,416