Phil Hellmuth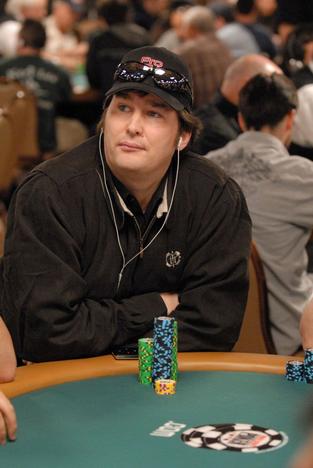 Video

Image gallery

See also
Phil Hellmuth (born Phillip Hellmuth Jr.) was born on July 16, 1964 in Madison, Wisconsin. He is well known by his nickname "The Poker Brat" because of his rude behavior towards other players and unpleasant personality around the poker tables. He is known to burst in anger and even curse when suffering a bad beat. He accused a player during the 2005 WSOP event that he cannot even spell the word "poker" and also known for remarks that if luck wasn't involved, he (Hellmuth) would have won every single tournament,t and that he himself revolutionized the way people play Texas Hold'em. On one occasion, Hellmuth insulted veteran poker player Sam Grizzle, which led to a fist fight. Hellmuth claimed the fight ended a draw, but there were other reports claiming Grizzle won with just a single punch. During the 2008 WSOP event, Hellmuth called another poker player (Cristian Dragomir) an "idiot" after Dragomir bluffed Hellmuth with a weak hand. Hellmuth could not calm down and continued to curse and go mad. He even got a warning, but eventually apologized to Dragomir for his behavior. One can say that Hellmuth is a unique kind of player and wherever he'll play, there will be controversy.
Nevertheless, whether you like him or not, he is without a doubt one of the best poker players in the world. He is a member of the Poker Hall of Fame and he holds a record of 11 World Series of Poker (WSOP) championship bracelets, more than any other poker player.
Hellmuth held the record of being the youngest player to win the Main Event of the WSOP for almost 20 years, when in 1989 when he was only 24 years old, he defeated the two-time champion Johnny Chan. He lost that record in 2008 when 22-year-old Peter Eastgate won that year's Main Event of the WSOP to become the youngest.
Hellmuth achieved his 10th bracelet at the 2006 WSOP $1,000 No Limit Hold'em with rebuys event and by that tied his number of bracelets to Doyle Brunson and Johnny Chan. But unlike Brunson and Chan, Hellmuth won all his bracelets in Texas Hold'em only.
Hellmuth won his 11th bracelet in a WSOP event of 2007 and set a new record to win 11 WSOP bracelets. Hellmuth also holds the record for most times to enter the cash in WSOP events with 68 entries and the record for most WSOP final tables as he advanced to 41 final tables during his poker career in WSOP events.
At the 2008 WSOP event, Hellmuth finished only in 45th place out of 6,844 players to take home $154,400 but was also the last former champion that remained in the tournament before he was eliminated. Hellmuth won an overall amount of $5,859,080 at the WSOP events and is ranked 8th on the WSOP All Time Money List.
Hellmuth also participated at the World Poker Tour (WPT) events, but has never won a tournament. He did however finish 10 times in the money and has reached 3 final tables. In 2002 he finished the $3,000 No Limit Hold'em WPT event in 4th place and in 2003 finished the $10,000 No Limit Hold'em WPT in 3rd place. The 2008 WPT L.A. Poker Classic, Hellmuth finished in 6th place and won $229,480 in a final table that included Phil Ivey and Nam Le. To this day, Hellmuth won $814,869 in WPT tournaments.
Hellmuth is no stranger to TV as he has appeared in GSN's High Stakes Poker, Poker After Dark and Late Night Poker. Hellmuth won $120,000 in the third season of Poker After Dark and then another $120,000 two weeks later.
Hellmuth also holds the National Heads-Up Poker Championship first title as he won the first tournament in 2005. In this tournament he defeated professional players Men Nguyen, Paul Phillips, Huck Seed, Lyle Berman, Antonio Esfandiari and finally Chris Ferguson in the final table.
As of 2009, Hellmuth has won over $10,700,000 in live tournaments only.
Hellmuth has several instructional poker videos of his own. They are Ultimate White To Black Belt Course, and Phil Hellmuth's Million Dollar Poker Secrets. He has published several books, among them Play Poker Like the Pros in 2003 (also available as an audiobook), Bad Beats and Lucky Draws: Poker Strategies, Winning Hands, and Stories from the Professional Poker Tour in 2004 and Phil Hellmuth's Texas Hold'em in 2005.
Hellmuth is also a poker coach alongside Annie Duke on Fox Sports Network's "Best Damn Poker Show". The program is sponsored by the poker site Ultimate Bet, which is also favored by Hellmuth.
Because of Hellmuth's impressive poker record, one might assume poker was the only thing in Hellmuth's life, but he actually attended the University of Wisconsin-Madison for three years before he dropped out and decided to play poker professionally. These days he lives in Palo Alto, California with his wife Katherine Sanborn and their two sons, Phillip and Nicholas.
His wife has a degree in child psychology, so it's always possible one day, she could calm the brat down…but if she could, where will we find all the controversy and fun?
Like it was said, you may like Hellmuth or not, he is still without a doubt one of the great poker players around.
WSOP Winnings
1989 - $10,000 No Limit Hold'em World Championship - $755,000
1992 - $5,000 Limit Hold'em - $168,000
1993 - $1,500 No Limit Hold'em - $161,400
1993 - $2,500 No Limit Hold'em - $173,000
1993 - $5,000 Limit Hold'em - $138,000
1997 - $3,000 Pot Limit Hold'em - $204,000
2001 - $2,000 No Limit Hold'em - $316,550
2003 - $2,500 Limit Hold'em - $171,400
2003 - $3,000 No Limit Hold'em - $410,860
2006 - $1,000 No Limit Hold'em with rebuys - $631,863
2007 - $1,500 No Limit Hold'em - $637,254
Store up to 3,500 books in one Kindle 3G device that weights only 8.7 ounces which is less than an actual paperback, download any book or magazine anywhere in the world with its free 3G + Wi-Fi technology included and change the way you read books. No more waiting for ordered books and no more looking for a book store.