Scotty Nguyen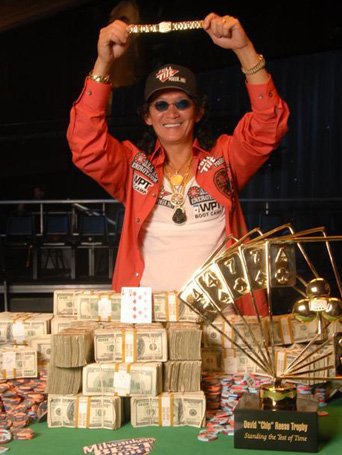 Video

Image gallery

See also
Scotty Nguyen (born Thuan Nguyen), who is also known by his nicknames "The Train" and "The Prince of Poker", was born on October 28, 1962 in Nha Trang, Vietnam. He holds five World Series of Poker (WSOP) bracelets which he won during the years 1997-2008 and one World Poker Tour (WPT) title which he won in 2006. He is the only player so far to win both the WSOP Main Event and $50,000 H.O.R.S.E. events. Nguyen said that the only game he has not won yet in the WSOP is the 2-7 Lowball. He is one of the most active poker players and sees the money in many tournaments he participates in. From 2000 to 2004, he finished in the money in more than 100 events!
Nguyen is very loved by many poker fans and other poker players. He is very nice at the poker tables, always has a smile on his face and loves to joke around, which eases the tension in the table and makes everyone else in a good mood. He also brings his emotions to the tables and on the last hand of the 1998 WSOP Main Event, the board showed a full house (9-9-8-8-8) when Nguyen said to his opponent that if he calls, it's going to be all over, ending the sentence with the word "baby" as he always does. His opponent called and said he's playing the board's full house only to lose to Nguyen's better full house (9-9-9-8-8). Followed that win and bracelet a tragedy occurred as only a day after Nguyen's event win, one of his brothers was hit by a car and killed back home in Vietnam. For that reason, Nguyen never wears the 1998 WSOP bracelet.
Nguyen continued to play well and earn money as he won two more WSOP events in the year 2001. 2007 was also a good year for him as he finished the 2007 WSOP Seven Card Stud High Low Split Eight or Better in second place after losing to Eli Elezra at the final table. Nguyen continued his great momentum as he played brilliantly at the 2007 WSOP Main Event and almost made it to the final table. He eventually finished the tournament 11th out of 6,358 players and won $476,926.
Nguyen played at the WPT events as well and up until 2006 has made it several times to the final table, but never won the title. Finally in 2006, he made it to the final table and even won the event defeating Michael Mizrachi heads-up for the title. The interesting part in that heads-up was that it was over after only one hand as Nguyen was dealt an A-Q (spades) and Mizrachi was dealt an A-J (Club-Diamond). They decided to play all-in with their cards. Nguyen got a flush with his cards to win the event and bracelet and to take home $1,000,000. With that win, Nguyen became one of only five players to win both the main event of the WSOP and a WPT event.
Nguyen stated that he prefers tournaments over cash games, because in tournaments he finds friendly environment which he enjoys, while in cash games the atmosphere is much more serious.
As of 2009, Nguyen has won over $10,300,000 in live tournaments only.
He appeared on NBC's Poker After Dark and even on Late Night with Conan O'Brien.
WSOP Winnings
1997 - $2,000 Omaha 8 or Better - $156,959
1998 - $10,000 No Limit Hold'em World Championship - $1,000,000
2001 - $2,500 Pot Limit Omaha - $178,480
2001 - $5,000 Omaha Hi-Lo Split Eight or Better - $287,580
2008 - $50,000 H.O.R.S.E. World Championship - $1,989,120
WPT Winnings
2006 – Gold Strike World Poker Open – $969,421