T. J. Cloutier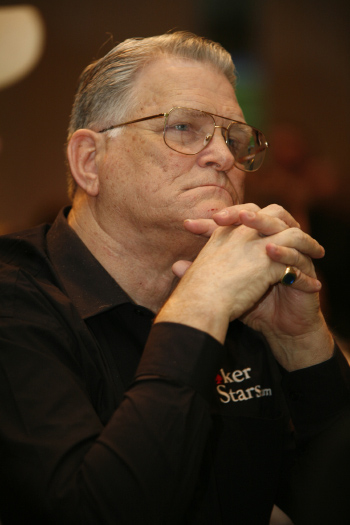 Video

Image gallery

See also
Thomas James Cloutier, who is better known as T. J. Cloutier, was born on October 13, 1939 in Albany, California. He holds 6 World Series of Poker (WSOP) bracelets and in 2006 was chosen to be a member of the Poker Hall of Fame.
Cloutier studied at the University of California, Berkeley and was on an athletic scholarship. He played American Football and Baseball and also played in the Rose Bowl in 1959. Unfortunately, he had to drop out because of financial trouble in his family.
Cloutier served in the U.S. Army and after it played football for Toronto and Montreal in the Canadian Football League. He had to quit playing football as well because of an injury, thus ending his football career. He took a whole new direction and decided to start a food company. This too was no success for him, so he decided to move to Texas in order to work on oil rigs. He started playing poker on the days he wasn't working, and eventually quit his job after realizing he's making more money winning in poker than in his own job.
Cloutier's specialty is playing in tournaments, especially No Limit and Pot Limit Hold'em tournaments. He is the only player in the WSOP history to win all three game types of Omaha (Pot Limit High, Limit High, Limit 8-or-better High-low split) in WSOP events. Although he had great success in different tournaments and in the WSOP events, he never won the WSOP Main Event. He has made it four times into the last five when two times he even finished second in the years 1985 and 2000, but did not win the Main Event, no matter how close he was.
Cloutier also played the World Poker Tour (WPT) events, where his best finish was coming 3rd in the 2003 Legends of Poker event. The winner of that event was Mel Judah. More tournaments Cloutier playing in are: The Ultimate Poker Challenge, the National Heads-Up Poker Championship, the Poker Superstars Invitational Tournament, and the Poker Royale: Battle of the Ages.
Cloutier holds the second place after Phil Hellmuth for most times finishes in the WSOP final table. Hellmuth has made it 41 times into the final table in WSOP events while Cloutier has made it 39 times. Cloutier has also made it in the money 54 times in WSOP events and is ranked in 5th place overall.
As of 2008, he has won over $9,300,000 in live tournaments only, when $4,319,663 of his winnings came from WSOP events.
Cloutier is also the co-author with Tom McEvoy of four poker books:
Championship Omaha: Omaha High-Low, Omaha High and Pot-Limit Omaha
Championship Tournament Practice Hands
Championship Hold'em (The Championship)
Championship No-Limit & Pot-Limit Hold'em
He also published a book of his own in 2006 titled How To Win The Championship: Hold'em Strategies For The Final Tables. The book contains strategies for tournaments with a specific cover on the final table.
He is married to Joy and they together travel to tournaments. He lives in Richardson, Texas.
WSOP Winnings
1987 - $1,000 Limit Omaha Hi - $72,000
1994 - $1,500 Limit Omaha 8 or Better - $135,000
1994 - $2,500 Pot Limit Hold'em - $163,000
1998 - $2,500 Pot Limit Omaha Hi - $136,000
2004 - $1,500 Seven Card Razz - $90,500
2005 - $5,000 No Limit Hold'em - $657,100