The First Step of Your Online Poker Career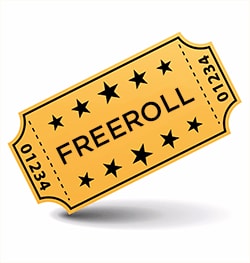 So you have decided you want to start making some serious money from online poker. It's an excellent decision, but what should be your first step? Buying 4 displays for multitabling? Rearranging your day to fit the tournament schedule? Deciding what Lamborghini model to buy?
Slow down there, partner! First and foremost, let's start from the basics. Are you even familiar with the interface? Do you even know where the Bet/Raise/Fold/All-in buttons sit so that you can click them faster? Are you familiar with the rules and the structure of a typical online tournament? Do you have a bankroll large enough?
A lot of questions, am I right? Well, worry not, because we have you covered. You should simply start with freerolls. There are tons of advantages to starting from there, for instance:
You don't risk anything! Freerolls are free to play. You get all the excitement of an online tourney without risking a part of your bankroll.
And speaking of bankroll, you can even start building it by playing freerolls. That's right, you can literally start your online poker career without depositing even a cent. A freeroll prize of $10 can give you an entrance to 3-4 additional tournaments and SNGs, where the prizes are even higher.
And of course, playing a freeroll can be a good exercise to familiarize yourself with the game's interface. You need to learn where the decision buttons are placed to eventually use them instinctively.
Another obvious advantage for playing a freeroll is that it allows you to experience and understand a typical online tournament structure. Notice how the blinds grow bigger every few minutes, when an ante starts playing a factor, when you need to change your strategy to accommodate to these changes. For instance, if your stack is short and the blinds are already too big, maybe it's time to push all-in and hope for the best.
As you can see, freerolls are your friends. Play them before jumping into deeper waters, and may the poker gods always smile to you.