Jamie Gold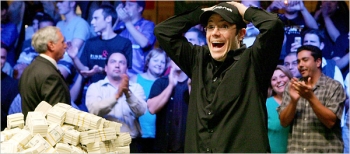 Video

Image gallery

See also
Jamie Gold (born Jamie M. Usher) was born on August 25, 1969 in Kansas City, Missouri. Besides being a poker player, he is also a television producer and a talent agent in Malibu, California.
He is most known for his win of the 2006 World Series of Poker (WSOP) Main Event, where he took home $12,000,000. Today, since he also works as a producer for "Buzznation", he divides his time between work and playing poker, especially in major tournaments.
When he was young, Gold moved to Manhattan with his mother, who remarried to Dr. Robert Gold. It was then when Gold's last name (Usher) was changed by a court order to Gold. They then moved again to Paramus, New Jersey, where he was raised by his mother and his stepfather. He studied at Paramus High School, from which he graduated in 1987. He then got a bachelor's degree from the State University of New York at Albany in 1991 and also studied entertainment law at UCLA.
Gold got into the entertainment business when he was 16 years old as an intern at the J. Michael Bloom & Associates Talent Agency, and before the age of 21 he already became a talent agent. Shortly after, he moved into management and production where some of his clients were Lucy Liu, Jimmy Fallon and James Gandolfini (The Sopranos).
The interest in card games and poker runs in Gold's family for a long time. His grandfather was a champion in gin rummy and his mother was a poker player as well. Gold himself took interest in poker when he was a teenager, but it was when he worked with Johnny Chan and Chris Moneymaker for a television show that he improved his game and became a more serious player. At that time he took poker lessons from Chan himself who was also his mentor.
Gold began playing in poker events and tournaments regularly in the year 2005. In April of that year, he won his very first major tournament (No Limit Texas Hold'em) and took home $54,225. Over the next year, Gold has made it seven more times in the money in tournaments that were held in California.
When he won the 2006 WSOP Main Event, a lot of professional poker players did not like his playing style and criticized him for it, as he used to pressure all players when he was playing position (last to act), but professional poker player Chris Ferguson actually encouraged him to keep playing his style as he made it in the money. Bluff Magazine published that this was a brilliant strategy which forced the other players to risk their entire stack all the time and made them make mistakes which Gold used for his advantage. Gold's winning hand at the event was Q (s) 9 (c) against Paul Wasicka's 10 (h) 10 (s). The board showed Q, 8, 5, A, 4 and with that, Gold made his pair which defeated Wasicka's pocket pair to win a record amount of $12,000,000.
After the tournament, he said the reason he won were the blueberries he ate during his play and referred to them as "brain food".
Another strategy Gold used during his play was to tell the other players if he held strong or weak hands when at times telling the truth and at other times lying. This way, he was able to fool and confuse the other players from guessing the actual cards he was holding.
As of 2008, Gold has won over $12,100,000 in live tournaments only. He has made it only 13 times in the money in various tournaments and won only two, but short of money he is not.
Gold also played various other tournaments that were designed to help and benefit charitable causes. Among these tournaments he played were the WSOP Ante Up For Africa, Andy Roddick's charity poker tournament and more. He also plans to create a charity poker tournament to help people with Lou Gehrig's disease, the same disease his stepfather died from only four months after Gold has won the 2006 WSOP Main Event.
WSOP Winnings
2006 - $10,000 No-Limit Texas Hold'em Main Event - $12,000,000